It all started the night before when two of my favorite cousins were visiting from out of town. We tried to find the perfect spot to view downtown at sunset. But we miscalculated, by the time we managed go on our search, the night was already upon us. We couldn't exactly postpone our trip since my cousins were only in town for that night, so we decided to brave the darkness.
Adventure is our middle name, so we… got lost.
We thought we mapped out the route, and chose what we believed was the perfect spot to experience downtown's shiny lights! Oh, but who knew one could still get lost in the era of iphones and google maps? We obviously took the wrong turn somewhere or perhaps we didn't have the route all figured out as we has imagined. Hell! We probably picked the wrong spot to begin with! Whatever it was, we were lost behind Dodger Stadium on a game-less Saturday night. Total darkness was upon us and an unknown destination ahead of us.
The area had a rather spooky feel that did not help the cause at all. It seemed like someone decided to turn off the street lights on purpose, but armed with our phones and guided by our fear we finally managed to find our way home after going around a few times still trying to find the spot that promised the magical downtown view. It was not about sunset anymore. It was about the shiny lights. We failed.
Disappointment. I could see it in their faces. My little sister was specially so since she was the one who told us about the view. She swore it existed and we didn't doubt her. We just couldn't find it.
While I was also disappointed, I was mostly frustrated. I did not want to give up so easily. Yet, I knew it would be impossible to find it at night. I foresaw a daytime adventure. I owed my cousins the view and I was determined to show them even if it was in pictures at this point.
So the next day, another adventure began. It was an hour and a half long mission to find the perfect spot.
After many wrong turns, we finally figured out where we were supposed to go. I was scared to dead of where we were driving, but he was not so obviously he drove. We found a spot so deceivingly named as to make one believe that by standing there one could experience the perfect view of downtown. It was a lie. We could see the tips of the skyscrapers and the Dodger Stadium sign.
We spent some time there trying looking around and deciding whether we should continue exploring. The adventure went on. We found another neat little spot that seemed promising. But it turned out the only thing it had to offer was its location: a sort of bridge above the 110 and I5 junction.
The driving continued. The map said exactly where we should turn, but after a few trips around the area we finally accepted that we would not get anywhere driving. There seemed to be an abandoned/closed off road to vehicles that could be walked, so we walked. A few meters into the road we turned around and saw what was already a beautiful view of downtown, but we kept walking. The road leads to a small seemingly abandoned building as well as a definitely abandoned tiny parking lot. We walked behind the building and we saw benches in random yet strategic locations. Oh, it seemed that we had finally arrived to the perfect spot!
So we walked down to one of the benches, and the view was perfect indeed.
But it was not over. There were so many creepy noises –or I might have been hallucinating. Also, there were some homeless people walking passed us every now and then. Did I mention there were bodies found a few years back around there somewhere? Yeah, I was scared. I felt like I was in a horror movie set. I wanted to leave but I was already there and I wasn't planning on going back. So we stayed until the sun went down and downtown lit up. It seemed to take forever. The darker the surroundings became the more scared I was. The noises were definitely not helping the feel of the general area.
The walk back to the vehicle was quick. I couldn't really walk fast due to my recent injury, but I wanted to run down the road and back to the vehicle. The noises did not stop and I kept turning around because I could swear I felt people looking at us. Of course, there were people looking at us. It is just that they weren't really staring at us; it just felt like they were.
The boy could tell I was scared because I was seriously holding on to his hand for my life. So when we finally returned to the vehicle and left, my almost anxiety attack was gone.
The view was worth it, I will admit. I am glad I went on the journey to find the spot that, I am sure, many people know about. But I am definitely not planning on returning, my skin isn't thick enough. Or I might, when my cousins come back to visit.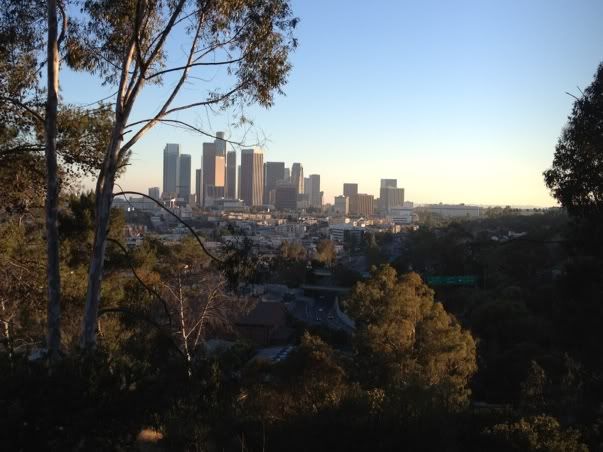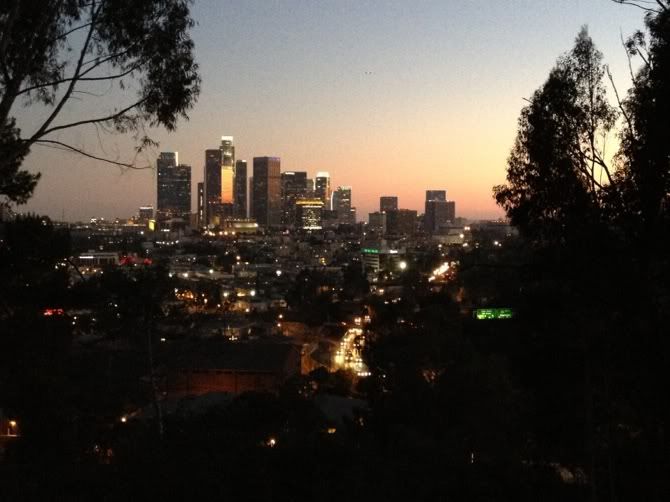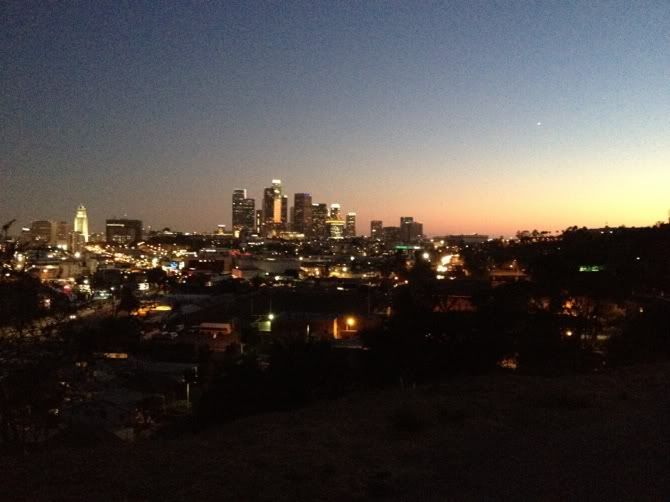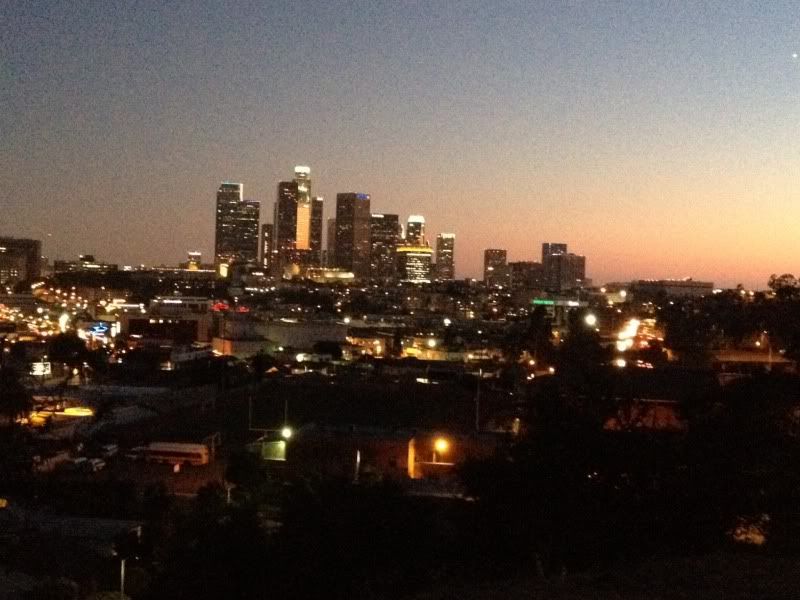 xo,R
©2012